Bearington Bears
Award Winning Teddies
Bearington bears are a family business which has at iys heart the motto "quality does not mean costly". In this day and age that really is a hard ask sometimes for many companies but not in the case of these bears. 
 Huggles - 2008 TOBY Industry's
Choice Award Winner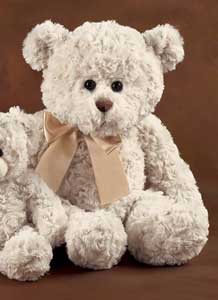 The company was started in 1998 by the Stray family who at the time worked in sales for other companies. Their love of teddy bears and the desire to own their own business drove the creation of the company and their passion for the business continues to this day. 
Quality is high on the list when you talk about a Bearington bear and as such the company has won over 100 industry design awards in only 15 years.
The look of these delightful bears is also highly prized and indeed every bear must have the company's own unique soft and friendly look and have maximum detail put into every bear. So much so that as soon as you see one of their bears you will exclaim, "It MUST be a Bearington".
The Range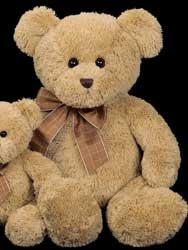 The Bearington Collection consists of several soft toy ranges: 
Traditional Teddy Bears
As the name suggests these bears look and feel like the tradition teddy bear we have all come to love over the years. 
They are undressed bears but all come with a rather fetching ribbon around their necks. Well every stylish teddy bear needs a little something, don't they? 
Fashionably Dressed Bears 
These bears fall into four different categories: 
Season bears where their outfits represent an aspect of each of the seasons.
Boutique bunnies, yes you've guessed it. These are well dressed bunny rabbits.
Greetings bears who are designed to help celebrate or commiserate in the case of the get well soon bears, special occasions. For me the Yoga bear has to be one of my favourites.
Holiday bears and friends are dressed to represent all the big holidays such as Christmas and Easter.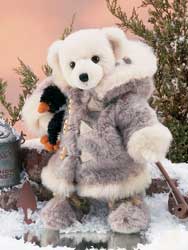 Wildlife 
The Bearington collection also prides itself on producing some more realistic bear and animal designs which they also have incorporated into some accessories such as hats and bags. 
Cuddly Friends 
This is a range of other animals and creatures designed as soft toys to appeal to perhaps a very young audience. These include playful puppies', lean beans and Stout Sprouts with sounds.
Collecting Bears From Bearington
The company is based n USA and as such most of their bears are sold there via retail outlets. However these teddy bears are collected the world over and so some can be purchased second hand online. 
Here are the current listings:
If you enjoyed this page, please consider sharing
 it with your friends:
Back to the top of this Bearington Bears Page
Back to Teddy Bears Home Page