Teddy Bear Collecting Tips
Teddy bear collecting is a relatively new thing to do and only really took off as a hobby in the 1980's. Until then Teddy bears were for kids and were a plaything rather than anything of value. 
The whole idea of bear collecting was really began by one man, Peter Bull, who in 1968 wrote a book called "bear with me" which explored stories people had to tell about their own teddy bears.
He continued championing the bear and soon became an international ambassador for the Teddy bear. 
In the 1980's there was a resurgence of interest in teddy bears and the term "Arctophile" (Greek for bear lover), was born. 
On the following pages we will explore: 
Why People Collect Teddy Bears
There are many reasons why someone may decide to want to start collecting bears and these reasons can determine the type of collection they end up with. 
Things To Consider When Beginning A Bear Collection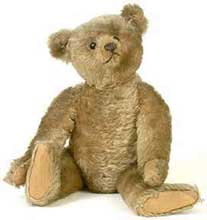 It may seem a little odd to think there could be anything to have to think about before embarking on teddy bear collecting as a hobby. But without some forethought your collection can begin to cause some problems. More here
What To Collect
For those who are just embarking on their first bear collection, we give you some ideas on the various different types of collectible bears and areas your collection can move into.  What to collect ideas.
Teddy Bear Valuations and Identification 
For the more serious bear collector there is a learning curve which will be developed over many years. We give some pointers as to how to make sure your collection starts off on the right foot. 
Identification and valuation tips
Where To Buy Teddy Bears
We give you some ideas as to the best places to look for your bears for both the serious collector and the hobbyist. 
Where to buy Collectible Teddy Bears
Bear Memorabilia
The world of teddy collecting can also stretch far beyond the actual physical teddy bear. some collector prefer to look for bear related items. Here we give you some examples. 
Teddy Bear Collectibles and memorabilia Ideas
Displaying Your Collection
Tips on how to best display your bears to get the most out of your collection. 
Looking After Your Bears
No matter how valuable your bears are you will want to take care of them over the years. This can be harder than you may first think. We give you a few easy tips on how to best keep your bears in tip top condition. 
Replica Bears 
Very few of us will be lucky enough to be able to afford the early antique teddy bears made by some of the most well known companies. However you will be able to afford reproduction bears. We give you a few examples of some the most well known replica bears available. 
---
If you enjoyed this page, please consider sharing
 it with your friends:
Back to the top of this Teddy Bear Collecting Page
Back to Teddy Bear Home Page