Teddy Bears Blog
This Teddy Bears Blog contains the most recent site updates, updated pages, and new information added to TotallyTeddyBears.com. Never miss a thing.
To subscribe to this Teddy Bears Blog (no e-mail address necessary), RIGHT-click on the orange RSS button and then copy-and-paste the URL of the "RSS feed" into your blog reader.
Or click on one of the other buttons if you use one of those. Follow their instructions.
This is my very long loved teddy I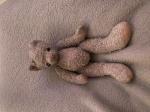 I got him for the Christmas of 2005/6 for my second Christmas :) He came white (shocking) and as a 'stuff your own' teddy I've been told. He had a velcro
If you enjoyed this page, please consider sharing
 it with your friends: