Me to You Bears - The Tatty Bear Story
Me to you bears have been with us for 25 years now, can you believe it? I can remember them first appearing on greetings cards and at the time didn't think much about them, but they have certainly come on leaps and bounds since then.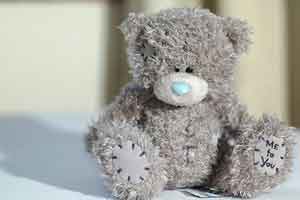 Me to you is the name given to a particular brand that the company Carte Blanche Greetings gave to their teddy creation called tatty teddy. The compan very cleverly built a sad story around this little bear which has helped to firmly fix this rather sad little character into everyone's heart. 
The story of Tatty Bear can be found here.
In The Beginning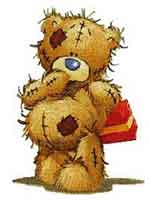 In 1987 an illustrator called Michael Payne approached a new greeting card company with his design of a rather scruffy and plump little bear in the hope they would take it on as a range of cards. 
Carte Blanche greetings was itself only founded in 1987 in the UK and so this was one of their first designs for their cards and as history shows it was probably the best decision they ever made.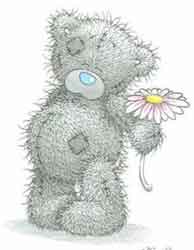 At first the little tatty bear was a brown character with patches here and there who appeared on greeting cards. His original design was slightly slimmer than the version we know today. 
As his popularity grew the Carte Blanche Company decided to expand their range and the Me To You brand was born in 1995 to encompass all their products with the Tatty bear design.
Me To You Bears Take Over the world
I'm sure everyone knows the Tatty Bear character, as it appears on so many products these days. From Mugs and Tee Shirts to key rings and pens, the little grey bear is everywhere. There is only one reason for this and that is quite simply that everyone loves this adorable sweet little bear.
For the first five years the "Me To You" range consisted of gift items as well as the greeting card range. It wasn't until the year 2000 that we first saw the first plush tatty bear appear. 
Since then the soft toy has appeared in many guises with new designs are coming out every few years.
Collecting Me To You Bears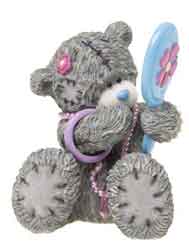 See my Limited Editions For Sale Page
The Me To You brand continues to grow and the Tatty bear has now become a collector's item in its own right. With Limited edition bears and discontinued lines being the most sought after. 
Due to the fact that the teddy bear character appears on so many different items there are several ways you can decide to collect.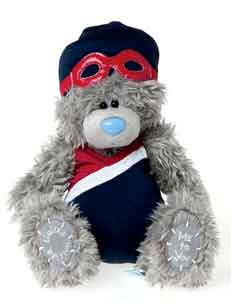 Collect everything with tatty bear on


Collect only early brown tatty bear items (much harder to find)


Collect only the bears


Collect only limited edition bears


Collect only certain items with the tatty bear design



Collect only figurines

 
Personally I love the little figurines; they are so cute and can be found in many second hand shops and online. I also like to collect the limited edition small plush bears too, so sweet and adorable.
If you enjoyed this page, please consider sharing
 it with your friends:
Back to the top of this Me To You Bears Page
back to Teddy Bears Home Page