Teddy Bear Clothes
The idea of teddy bear clothes and accessories is not a new one, as early as 1906 some manufacturers were producing outfits to accessorise toy bears. However it hasn't always been in popular demand and there have been periods in the life of the toy bear when clothing for teddies was frowned upon. 
Traditionally teddy bears are made with no clothes on or at the very most they may sport a ribbon or bow. Quality bears are made from fine mohair fabrics and so their beauty lies in their luxurious plush. 
However we must all admit I'm sure to dressing up our bears from time to time and this has only developed over the years to create a whole new industry of teddy bear clothes and accessories. 
The following pages will lead you through the world of dressed bears and teddy clothing and some of the accessories available to the teddy bear lover.
Teddy Bear Costumes & Clothes
There is a wealth of Teddy Bear costumes available to dress your bear in these days. Or perhaps you just like to buy bears who are already dressed in a particular costume.
Find Ideas on the different clothes available for your bear. 
If you can think of a costume there will already be a bear dressed in it. To be a little more individualistic, why not make your own clothes for your teddy? there are so many books and patterns to help you create something unique for your bear these days.
Find Out About Making Your Own Bear Clothes
Clothes can also protect your bear from light and dust.
Find more on how clothes can protect your bear.
Lookalike Bears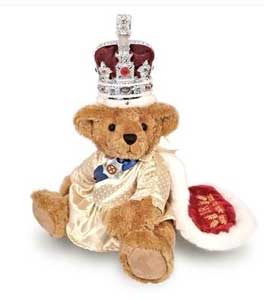 Since the resurgence of adult teddy bear collecting in the 1980's a new phenomenon of toy bear design has arisen. This is the world of the lookalike bear, in other words teddy bears which have been made to look like or emulate either a real life person or perhaps a character from a well known film. 
It seems that everyone from the Queen of England to James Bond has been immortalised in bear form. This has created a whole new world of bear collecting. 
More on look a like teddy costumes
Teddy Bear Accessories
Okay so it may seem to the average person that buying accessories for your teddy is rather an odd thing to do and perhaps even a waste or money. However collecting anything can grow and develop so why not accessorise your bears just as you would your own wardrobe. 
Bags, suitcases, glasses and bagpipes, yes I said bagpipes, are just a few of the many items you can add to your teddies wardrobe. 
Other popular Teddy Bear Clothes available are: 
Early Examples of Teddy Bear Clothes
One of the first thing a child does when they first receive a toy bear is to want to dress it up so that it can take on more human qualities and become a friend not just  a toy. 
Early on, mothers and grannies were pressed into making clothes for bears but if course the main manufacturers soon caught on and began to produce already dressed bears for sale. 
In America teddy bears were originally marketed towards boys and as such many of the teddy bear clothes produced were masculine such as Policemen, Firemen and Military uniforms.
Up to 1913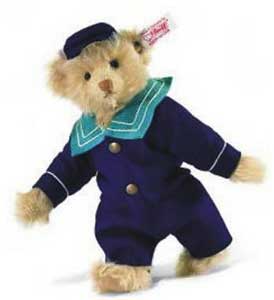 Steiff produced some of the first dressed bears most notably in 1906 with their Basa and Basi bears who were dressed in a sailors suit and dress respectively. Also their Batro bear of this period was also dressed in a knitted suit and cap. 
Up to 1944
During the First World War a few companies made uniforms for so called patriotic bears. The best known of these bears were known as Ally bears and were made by a London company called Harwin and Co.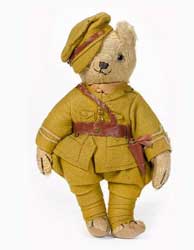 Often families would hand make teddy bear clothes and dress their teddies in the same uniform as the person going off to war. 
With the advent of cartoon characters appearing on film and in newspapers during the 1920s and 1930s a few companies began to produce some bears who looked like these characters rather than natural bears. Teddies were also made already dressed and many were made with their clothes sewn to the body.
1945 - 1969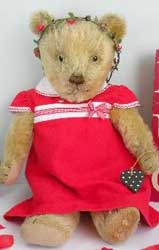 After the Second World War materials for bear making were not plentiful. Also the shape of bears changed and they became more like cuddly toys than looking like a bear. This change in shape often made it difficult to dress these bears as they had much larger rounded heads and short stumpy legs and arms. 
Due to material shortages and bear shape changes few teddy bear clothes were made and people returned to making their own clothes for their bears, often dressing them in fashions of the time.
1970 - 1990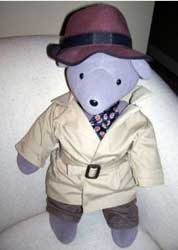 Collecting teddy bears became very popular during the 1970's which continues today. This also meant that clothing for teddies also made a resurgence. 
However many of these dressed bears were not designed for the mass market but instead were designed to tempt the more affluent collector. 
Today original clothing for bears is highly prized regardless of whether or not they were homemade or manufactured. This is due to the fact that these delicate items often have not survived the years.
---
Back to the top of this Teddy Bear Clothes Page
If you enjoyed this page, please consider sharing
 it with your friends: