Tatty Teddy Bears
Limited Editions For Sale
Tatty Teddy Bears - Welcome to my sales page for limited edition bears. I have also included a link at the bottom to currently active limited edition tatty bears on eBay.
Santa Bear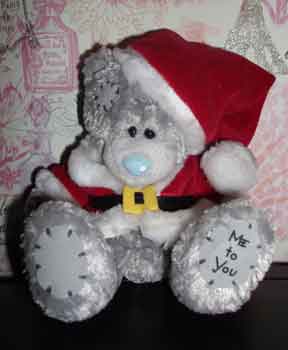 Condition: like New still with Limited edition card label attached
Size: 6 Inches sitting
Description: Super soft fur with a slight sheen. The bear is wearing a red Santa hat and red coat with black and yellow belt.
Price: £6.99
---
Active Ebay Listings For Limited Edition Tatty Bear 
Tatty Bear in Bunny Costume
Condition: Like New
Size: 6 Inches sitting
Description: Very soft, very cute bear with removable hat which is attached to the rest of the costume.
Still attached to original box.
SOLD
2010 World Cup Bear Wearing Spanish Strip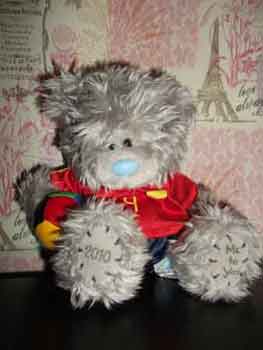 Condition: Like new
Size: 6 Inches sitting
Description: Bear is dressed in red top and blue shorts. He is holding a multi coloured football under one arm. On the back of the shirt are the words "Tatty Teddy 9".
The Spanish football team emblem is on the front of the shirt as well as the number 9.
SOLD
If you enjoyed this page, please consider sharing
 it with your friends:
Back to the top of this Tatty Teddy Bears Page
Back to main Me To You Bears Page
Back to Teddy Bears Home Page