18 Year Old Bear Or Is It A Dog?
by Makala Berry
(Raleigh, NC, United States)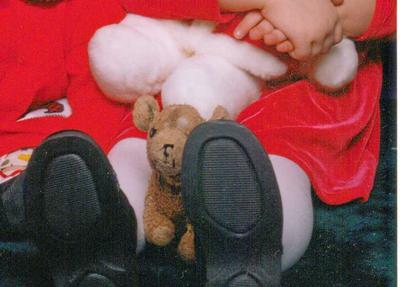 He is at my feet.
I received my best friend, Bear, when I was six months old. He apparently came with a book. When I was two I decided permanent marker was great and my mom threw him in the wash. A lot of his fur was taken off from that. He is very small and appeared to have two different colored furs. A lighter brown and darker brown. He has plastic eyes and his nose was made of thread. No tag can be seen on him and I don't remember a tag but my mother said it was there. He is on all fours and has decently large ears.

Please help me if you can. I would love to see if I can find another one because my friend is starting to fall apart.