1930's Brown Bear
by Kerri
(Atlanta, GA USA)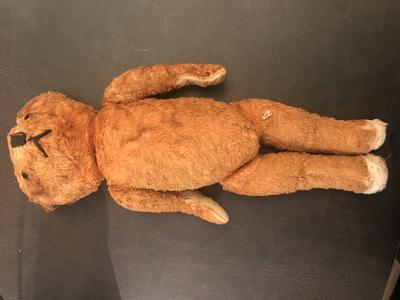 1930's Brown Bear
My mother's teddy bear found its way to me this year. Mom was born in 1933 but can't say anything about her bear and were it came from. She grew up in Arkansas and her family has been in the USA since before the revolution, so I'm assuming it was made in the US, but who really knows?

It has a scruffy much-loved coat, glass eyes and I can feel discs at the joints. It looks like it had either felt or brushed leather feet and hands, but the feet have been pretty much loved off. The stitching and pieces of the fabric seen on the hands are on the feet, but the stuffing is showing. I can't tell if it ever had real feet or just straight legs.

The nose is embroidered.

Let me know what you think about mom's bear!