1930's? Stand up Bear Jointed head only
by Fabiola Bornacini
(Mexico City, Mexico)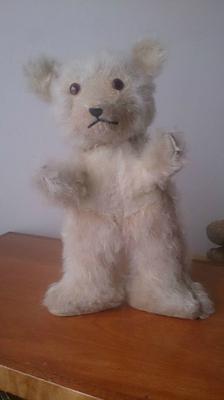 Standing bear
The following questions are just a guide as to the sort of thing you can tell us abut your bear. Submissions of less than 300 words will not be accepted.


Can anyone identify this bear. Here are some details.
I bought it a couple of months ago from a toy collector who passed away.
He has a medium size muzzle I guess
It has a black horizontal stitched nose with long stitch borders in a triangular shape, with a V inverted mouth
His eyes are glass in brown and black pupils. They have a rare shape I add a picture
I think is stuffed with wood wool because of the crunchy noise he makes when you touch it.
He measures 14" tall approx.
He has a tummy squeaker or growler. He has two kinds of fur, I think they are mohair, one is short and the other is long. It feels soft to touch. He has only jointed head, His arms and leg as aren´t jointed, I guess that because of its stand up shape. He has cardboard on its feet.
I really don´t know much about it, his owner passed away and his family sold it to me with another great things.
Comment
What a great looking bear and very unusual. I must admit I haven't seen one quite like him before.
He does have a look of a 1960's bear but your bear has glass eyes and has a jointed head which isare characteristics of much older bears.
I'm afraid I can't help with the I.D but perhaps someone else has an idea. Kate