1938 Teddy Bear

(Karen)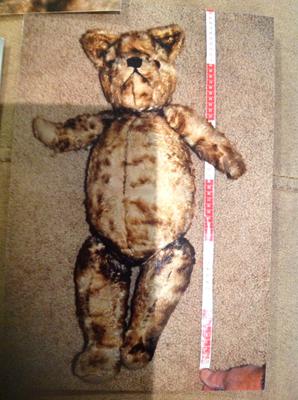 1938 teddy bear
Hi. The bear I am trying to find information about was given to my dad in 1938. We believe it was purchased in England at the end of 1937 or beginning of 1938. My dad thinks it had a blue ribbon around its neck, but cannot be sure.


The Bears unique feature is a music box in its stomach that you push and it plays music. Thus still works. It is made from mohair that is a reddish browny colour. It's feet and hands we think are suede pads that appear to gave been a cream in colour.
The bear has fully moveable limbs and the arms appear to be shorter than the legs. The bear gas glass eyes that are still original. His face is round and his nose and mouth are sewn in black.
My dad thinks it had some kind of tag on it but cannot remember. He bought that teddy may have been purchased in London but he is unsure of that. Teddy still has all his original stuffing, and his seam runs down the front of his torso. He us about 60 cm in length. I have several photos of him and have tried to find information about him, but he just does not seem to fit any particular style from that period of time.
His mohair is worn in several places. His head also is moveable to match his limbs. We are not able to find any markings on him, but we know for a fact he was purchased in England. I believe the lady who bought it for my dad was a friend of my grandparents and was quite well off, which had us wondering whether or not this was bought from a specialised shop.
As I previously stated, the bear does not have a growler as such, but rather a music box feature, and in my investigations I have not been able to find any others with this feature from this time period. the bear has some weight in the body, and his moveable limbs are also quite sturdy. He has rounded ears which have mohair inside and out.
I am not able to verify when this bear was actually made because my dad does not remember if it came with a card, only that he remembers the bear having a ribbon that he thought was blue.
I am attaching some photos and I hope you may be able to help us.
Thank You
Karen Day