1944 RMS Aquitania Teddy Bear
by Buzz
(Angola, Indiana )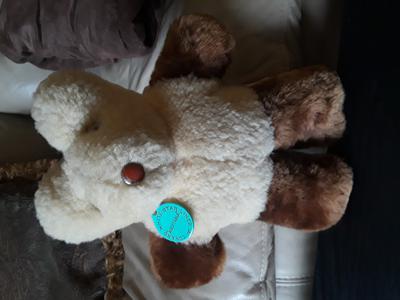 1944 RMS Aquitania Teddy Bear
I was sent this teddy bear for Christmas 1944 by my Uncle who was in the US Navy on board the Cunard White Star Lines 'RMS Aquitania' which was then being used as a troop carrier during World War II. I was then two and one half years old.


It is approximately 10-1/2 inches tall; 10 inches arm to arm wide; and 4 inches deep.
It is Brown and tan; brown is plush material tan is wool-like textured.
Eyes are black and move inside clear glass-like buttons.
On a red ribbon around its neck is an aqua color plastic disc. Impressed in the disc is: CUNARD WHITE STAR LINES with 'AQUITANIA' in the middle.
Nose is a red metal button.
Tail, which also was a red metal button, is missing. In the photo you can see the threads that one time held the button in place. But that is another story. Let's just say I bit off the tail button and swallowed it. My Mother took the teddy bear away from me, fearing I would do the same to the nose. She eventually returned it to me on Christmas when I was 42 years old.
I have attached three photos: front, back and plastic disc.
I would sincerely enjoy learning more about this teddy bear. Any information, especially in regard to the maker, would really be appreciated. Thank you.