1950s German (Mohair-?) Bear
by Viv
(Cambridgeshire UK)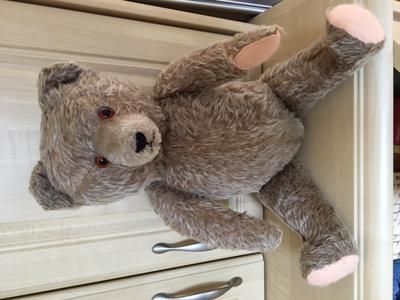 1950s German (Mohair-?) Bear
This bear was given to me as new when I was a baby in 1958, when my parents were living in Germany for a short time and so I suspect he was made in Germany in the 1950's.


He has jointed, quite long limbs and the original growler still works well (when he is turned from horizontal position to vertical.) His head turns 360 degrees.The fur is light brown and I believe is mohair and is still quite soft. He is stuffed with wood wool.
The felt on the paws was re-covered or replaced some years ago as it was quite worn (the original worn paw-covering may be underneath).
He appears to have a piece of cardboard at the top of the body (just under the head) and also at the top of each of his limbs. Each limb can be twisted around 360 degrees fully without restriction. His arms and legs are reasonably long.
I suspect his right eye is original as deeper set and the left one a later replacement. He does not have any labels or discerning buttons etc. - I cannot remember if he originally had any labels.
He has a nice fairly long snout and black embroidered nose and mouth.Other than the repairs mentioned above he is in fairly good condition and can still sit fairly upright and is still, well and quite firmly stuffed and his fur is in good condition.
He is approx. 16 inches long from head to toe and has quite a long body.
If anyone could help to identify more about him and if I should have any work done to replace his newer eye to a better size or other care guidance I would appreciate this or if he is best left as he is. I would like to know more about him and his heritage please and if he may have any value other than as a loved toy.
He has been much treasured and is now over 60 years old and deserves to be loved again. I am hoping I can pass him and his heritage down the family.
Any advice will be most appreciated. Many thanks for taking the time to read this post.