1951 bear
by Rosemary Mason
(Northern Ireland)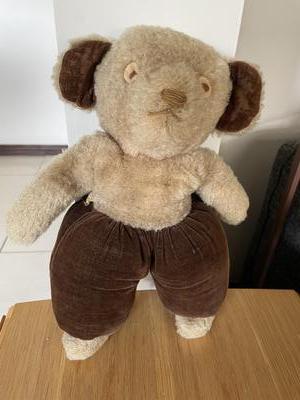 I was given my bear as a gift when I was born in 1951 in Northern Ireland. I would guess that he was bought in a department store in Belfast. He has travelled with me since then and has even lived in Africa.


He is a Chad Valley bear made in England with his original printed seam label. He also has a label on his left foot which reads The Chad Valley Toy Co underneath which is a royal coat of arms and under that By appointment to Makers To HM?
He is 30 cm tall with brown fur, possibly mohair, and has dark brown velvet trousers and ear liners. His ears are on the side of his head. His eyes are felt circles with centre stitching. His nose is horizontally stitched as is his mouth which is an inverted v shape. He has no separate hands and furry feet with no claws. The stuffing is not visible but is firm and possibly kapok.
The bear is in good condition with a little wear on the velvet ear liners and where the trouser seams meet.
I would love to know more about him. Thank you.