1986 Margaret Rockenbaugh Teddy bear?
by Steve
(Illinois)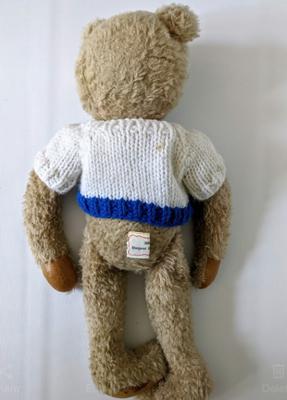 I recently came across a large weighted teddy bear at a garage sale. This bear is about 18" long. This bear weight over 4 lbs and is jointed at the head, legs, and arms. The only writing on the tag says: 1986 Margaret Rockenbaugh.


Despite my best efforts I can not find any information on this bear. He is a very light Ecru color and has quite soft, and I suspect synthetic fur.
He came with a short sleeved white knit sweater that depicts a sailboat on the water. The pads of the bears feet and hands are made of suede I believe. Whatever pellets make up the weighted filling feel like small granules, but I have no way of identifying what it is made of.
I feel like I have provided adequate information (with the pictures) to hopefully help gather some information, but understand that my word count is likely still below the 300 word threshold so I will continue. Both the bear's arms and legs measure about 8" long, perhaps just a touch shorter. I thought this teddy was interesting because it appears to be modeled after a Steiff bear, or maybe not, I am not the best with bears, I'm not bad at filling up space with words though. Oh, I should have asked earlier, how is your day going? I sure hope this inquiry finds you well. It is a gloomy day where I am in the midwest, awfully gloomy and humid but the rain wont come.
Right, back to the bear, the arms and legs rotate three hundred and sixty degrees but the head only rotates from side to side. I noticed that we are requested to submit a minimum of 300 words but the header above this box says it is 400 words. I wonder which is accurate.
Right, back to the bear, I lightly plucked a pinch of fur and lit it to find that it singed into a hardened ball which seems to confirm my suspicion that it is a synthetic material. The bear's eyes seem to be amber colored plastic without any detail like a pupil, just translucent amber plastic.
I decided I will write three hundred and fifty words but just changed my mind and will go for four hundred to err on the side of safety - I'd hate to have to write this again. Jeez, I'd hate to have to read this...Sorry to whoever reads this! Well, I hope I have written enough to be seen, and have provided enough information to be pointed in one direction or another. Watch, it will turn out I missed an obvious and very pertinent detail because I got caught up being a smart alec.
Thanks for any help!