1990 Brown Stuffed Bear with Movable Limbs
by Alice Dubray
(GA)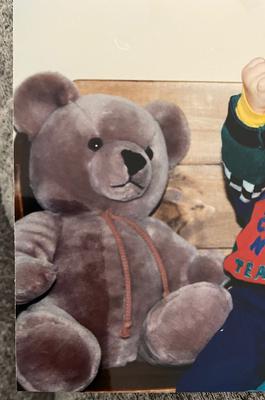 1990 Brown Stuffed Bear with Movable Limbs
1990 Brown Stuffed Bear with Movable Limbs and Rope Neck Tie


Hello!
I am trying to identify and hopefully re-possess a childhood teddy bear that was given away years ago. It was a gift for my brother when he was born in 1990 in Connecticut. My parents gave it away years ago and I now wish to reclaim it as a gift for my sister whom the bear was handed down to. It was her favorite stuffed animal as a child and ever since it was given away, we've been searching for it. Her and I have searched high and low for it around our house before we finally accepted that it was most definitely given away by our parents years ago. I've also done extensive searches for it online to no avail. My mom has been out of touch with the woman who gifted us with the bear for years and would not feel comfortable reaching out about something so trivial.
As you can see in the pictures, it was brown and measured about 24 inches. It had moveable limbs and a burnt orange-looking rope tied around its neck which came with the bear but had gone missing sometime in the years of our childhood. The eyes look like they are made of plastic/glass and the nose and mouth look to be made of thread or material. It was a gift in 1990 and looks new in the pictures which were taken in 1990-1991. It was soft but could sit up on its own.
In the pictures you will see parts of my baby brother which may help with size comparison. You can see how its arms are raised up in one of the pictures to show how its arms and legs were adjustable.
Any information is much appreciated! Even just knowing the brand or even the existence of others would put our minds at ease. Thank you in advance for your help!