2 for 1 Mystery Bear
by JoJo
(Pensacola, Florida)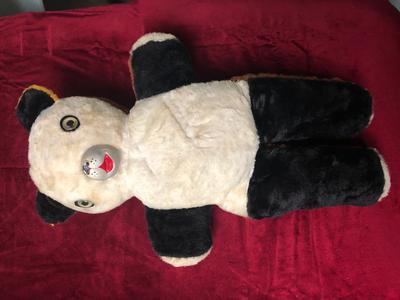 black and white bear
Hi, everyone!

I purchased this mystery bear about 20 years ago at an "antique" store in the Florida Panhandle.

As you can see, it's black & white on one side and brown & yellow on the other.

It weighs 4ish pounds and is 20" tall. It's firm but pliable to the touch. Feels similar to cotton batting but there are
no breaks in the stitching so I can't be sure what's in it.

There is a seam running up the front/chest of both sides.

The nose/mouth appear to be vinyl and the eyes are plastic.

I've been searching for info on and off about it since I picked it up.

I wish I could say more about it but I just don't know.

Any thoughts?

Thank you!