2 teddy bears from late 90s/early 2000s
by Gemini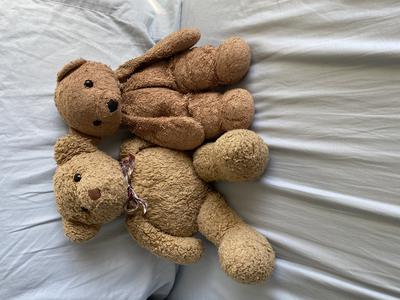 2 teddy bears from late 90s/early 2000s
Hello everyone, this might be a weird request, but I've had these bears since I was a little kid, they're starting to really getting worn down, so I want to find out what brand they are as the tags has worn to the point of no words.

Left one with the tie: bought in 97/98 in either Denmark or Norway.
Around 17/18 inch from feet to head, has weight (sounds like sand or mini pebbles?) in hands and butt. Short tail

Right one: bought in 2001 in California, USA. Around 13/14 in tall, had weight in feet and butt, no tail at all (tail didn't fall off or anything, just didn't came with one). Used to have really smooth and shinny golden fur.

Thank you so much!