2000's bear
by Diana
(England)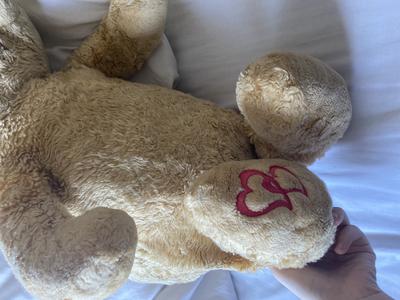 Embroidered hearts
I've had this bear since around 2004.

It's nose is made out of some hard material. The legs are very flimsy and move easily (it has always been like this). The bear has been severely flattened, it used to be more fat and full but over the years it's gotten smaller. The most noticeable thing about the bear is the two red embroidered hearts on its right foot. It has very floppy ears It's filled with normal stuffing, i'm not sure exactly what it is.
The bear is approximately 45 cm tall.
I think the bear was purchased in Romania, but I'm not 100% sure.