24" Growler

(Australia)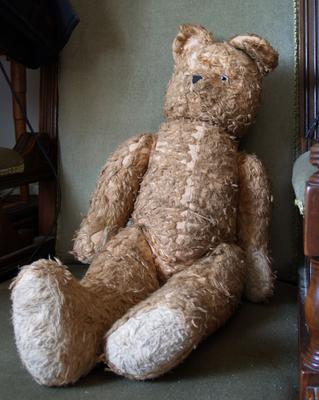 24
Hi, I hope someone can identify my bear for me. I bought him with 2 JAKAS bears as a lot at an auction some years ago. He has no tags or identification marks, but he appears to be made of mohair on a fabric backing( I did do the ash test on a small amount of fur which I took from under his arm and it did turn to powder). Even his pads are mohair, which I thought would make him easier to identify but I have looked at so many photos of old bears in books and online and they all seem to have pads made of felt or leather or some other material such as gutta percha. I called him a growler because, although he doesn't make a noise, there appears to be something inside him that has a moving part which rattles as he is tipped over. He has quite solid looking legs. Although he looks like he is a brown bear it looks like his fur was originally a caramel to possibly pale orange colour with white pads, but he is now quite dirty and threadbare. (I wouldn't mind some hints on cleaning him up) He has clear glass eyes with black pupils that are attached with a shank (metal I think) and a relatively small stitched mouth. His nose is also stitched. He is fully jointed with a head that turns. He is approximately 24" to the top of his head, not including his ears (one of which is almost detached) His legs are about 11" from the top of the hip to the sole of his foot and his arms are around 9" long from the shoulder to the end of his paw. He doesn't have any stitching on his paws, though I suppose it is possible there once was and it has not survived all the loving he has had over the years. His body feels as though it is filled with foam that has perished as does his arms, legs and head. Though his head is much firmer than his body. I could be wrong about that but I do have an old straw filled bear and this one doesn't feel the same and it is not soft enough to be kapok unless kapok goes hard. He is quite a lovable bear and has obviously been a well loved friend in the past.


Is there anybody who knows what type of bear he is and where I might see a similar one with mohair pads?
Join in and write your own page! It's easy to do. How? Simply click here to return to I.D Your Bear.
If you enjoyed this page, please consider sharing
 it with your friends: