70 Year Old Teddy
by Beverley williams
(Australia )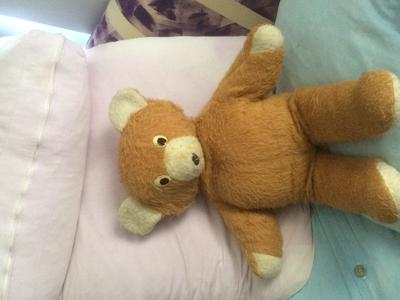 mustard coloured teddy bear
Hi there


I was hoping you could give me some idea of the origins of this teddy bear. This bear was given to my daughter about 12 years ago by my Grandmother, who stated that the bear belonged to one of her daughters as a young child. From my calculations apparently this puts there bear at over 60-70 years old. I have had a look at numerous sites and can't find anything. The bear perhaps had a mouth at one stage I'm not too sure, and it also has clip things behind each ears where once perhaps a hat attached.
The eyes appear to be maybe some sort of felt so I don't know if they are original eyes. I can't find any tags , stamps or any identifying marks anywhere. The stuffing is not very soft although you can indent it when pushed on. I'm starting to think that perhaps my grandmother may of even made the bear her self? The nose appears to be stitching . I think? Other then slight darkening of the white section perhaps from years of dust the bear is in awesome condition. I'm not overly fussed if it's worth anything I'm just trying to get some sort of idea of this bears age. Any sort of help or advice would be great.
Beverley
Join in and write your own page! It's easy to do. How? Simply click here to return to I.D Your Bear.
If you enjoyed this page, please consider sharing
 it with your friends: