A 1963 bear, but what make? Can anyone please help?
by Anne Hogg
(Northumberland )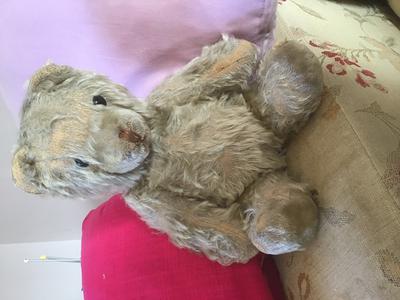 1963 bear,
Hello. Meet Ted. He is my beautiful bear, a gift for my 2nd birthday in November 1963. He is a golden mohair, stuffed with wood and wool. He has a squeaker in the centre of his back which still works. He is fully jointed and his head rotates 360 degrees. All four paws are covered with soft, velvet-like pads, probably also mohair. He has a pair of black eyes but they are of different sizes (diameters of 1.2 cms & 1 cm), so one may have been replaced (although I cannot remember it being done). They both feel cold so I think they are glass. Her nose and mouth were embroidered onto Ted using a heavyweight brown thread which feels like cotton. Any label (if Ted had one) has long since disappeared. Any help gratefully received. Kind regards, Anne H.
Join in and write your own page! It's easy to do. How? Simply click here to return to I.D Your Bear.
If you enjoyed this page, please consider sharing
 it with your friends: