A beautiful little bear with a label
by Claire
(Northamptonshire, England )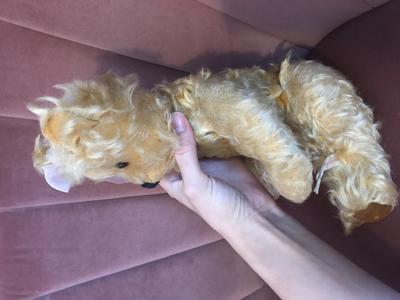 A beautiful little bear with a label
I bought this beautiful bear from eBay for £39. The seller said they weren't sure what make she is. I fell in love with her little smile and with her long fur, which I think is very well maintained!


The seller says she has wood wool filling in her body and head and kapok in her arms and legs. Her head is a little wobbly but this means I have to hold her gently like a baby and adds to my love of her!
She has glass eyes and a stitched nose- some bit is missing as you can see! She also has a label and on it is printed made in England in red letters (I can't tell what material the label is made of, probably cotton as it is twisting around on itself).
Her paw pads don't appear to have any claws but she has brown ones- not sure of material as I am not an expert.
I believe her fur to be mohair. I can't see any repairs to her.
I would love to know if anyone has any ideas of her make or age. The seller said 1930-1940 as she has glass eyes and wood wool filling. Any ideas?
Much appreciated and love site! Any more questions please ask away!
Claire x