About this teddy more details information
by Mabel
(Hong Kong)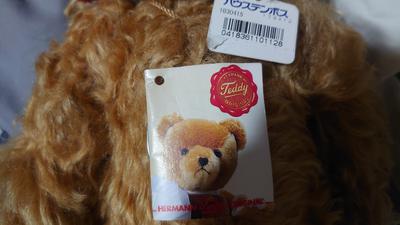 Hello. The frist thing. I feel so Sorry my english was so suck. Hope you can understand my English. I try my best to type it here. I brought this teddy in japan at 2001 when I went to traveling with my ex boyfriend . After I get her. I wondering did I spend too much money to get her.I tried to search about this teddy more information . But so hard to get all of details. even the pic .luckily I found out this website. I remember I spend like around HKD 2100 to brought it. I saw shes had a label was limited edition.Can I know more detail about this teddy!?
Shes the first teddy I brought it to myself. I wish I can keep her so perfect. How to keep it much better. And how to clean it!? May I know about the limited edition is that good for collection!? How different with another edition!? This teddy is that handmade teddy. I think shes made by mohair. Is that all of Hermann teddy made in Germany!? Which year is this teddy made by!? Any number is about this teddy!? Thank a lot!




Join in and write your own page! It's easy to do. How? Simply click here to return to I.D Your Bear.
If you enjoyed this page, please consider sharing
 it with your friends: