Adorable Blond Teddy Has Been My Buddy For Over 20 Years!
by Ethel Grandillo
(Fenton Michigan)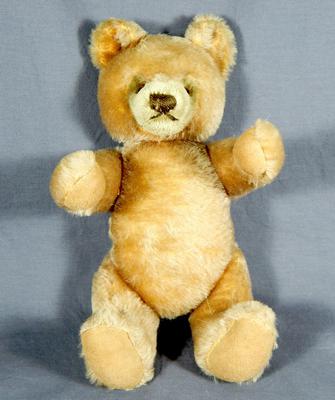 Blond teddy Bear
This teddy is approximately 13" long (not sure how to measure a Teddy!). His head, arms, and legs are all movable. His stuffing feels very firm but is not 'scrunchy' like wood shavings and doesn't make any sound. There is no squeeky thing in his belly. There is a definite hole in his ear (the right one when you are facing him). He has a seam down his back but no belly seam in front. It goes right through and I was thinking maybe this is where the Stieff button may have been - I hope!) His eyes are glass. I got him in Atlanta when I went to a house sale. The woman there was very young like me and said the bear had been 'in the family' for a long time. Of course when you are young 20-30 years FEELS like along time so who can be sure? At the time I had an antique doll carriage so I put him in there with toys I had myself when I was little - a skunk and a kangaroo doll from the 60's. He's been in there ever since! I'm not really sure what elese I can say about this bear. His hair feels like wool or mohair and his "skin" is a sort of orangish color. He is very clean and not worn at all so I'm pretty sure he was well taken care of by his first owners whoever they were. I remember now that the house sale I got him at had a lot of antique things so maybe he belonged to the person that had collected them??? I wish I knew more about him. I haven't said that he sits up very easily and at Christmas I put him and other stuffed animals I have around my Christmas tree. Some of them always fall down but he sits up very politely and looks quite the gentleman. I do have some cats and I have to be very careful at Christmas because they are very interested in the tree AND this bear in particular. Once my black cat Theodore hissed at this bear and acted very scared of him. Oh, and THIS bear doesn't have the toes you sometimes see on real old bears - the kind that are stitched onto the paws? This one has soft felt (wool?) on his paws and feet and no indication of claws or toes at all. His nose also has a kind of pulled thread - you can see it in the photos - maybe where it got snagged on something. Well, I hope you can take the time to tell me more about the origin of my bear. I enjoyed writing about him and I hope I've given you enough information for you to be able to do that. THANKS!!!
Join in and write your own page! It's easy to do. How? Simply click here to return to I.D Your Bear.
If you enjoyed this page, please consider sharing
 it with your friends: