American bear?
by Jan Hill
(Southport, Merseyside, UK )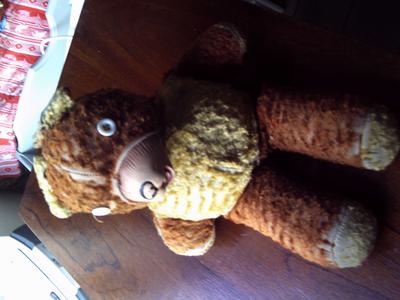 Is this an American Bear?
I have a bear that I was given to me by my father in the 1950s. He worked for the liners that went from Liverpool to the USA and often brought us presents that he bought in New York. My sister was also given a smaller bear which has always been called Teddy-from-New-York.


My bear is very well worn but was once brown and yellow. He has a long snout made of what feels like plastic (now rather cracked). He is stuffed with sawdust but remarkably soft despite this. He used to have brown eyes made of glass or plastic but they were long ago replaced by buttons.
As I used to carry him everywhere by his ear one of them is just hanging on. He has been sewn and repaired many times so is rather disreputable looking.
I would be interested to know if he actually came from America. I believe his present extremely play worn condition rules out any value however.
Reply
It is very difficult to try and identify this bear as he has lost many of his original features which are often used to help with identification. He does look like he has been well loved and that is what every teddy bear should be.
I have looked through my books and I can't find a match but he does have some characteristics of a Wendy Boston toy. The round ended feet short arms and general construction makes me think he may be a Wendy Boston Bear. However Wendy Boston bears were made in the UK and were very popular at that time. Later the company became known as Play safe toys.
However someone else may know of an American bear from that time that has similar looks and may comment here.