An affectionate teddy bear with its baby
by Lucie
(Australia)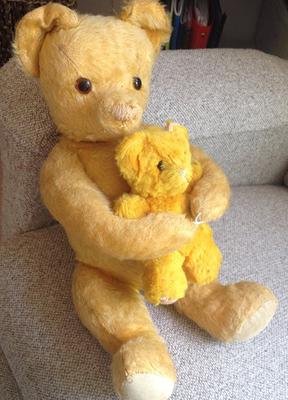 teddy bear with its baby
This adorable (female?) teddy bear is 44 cm high the top of his head to the bottom of his feet, has movable joints (including the head) and its arms sewed together so it can hold its little one tight. The bear cub is 17 cm high and does not have movable joints.


The fabric is synthetic for both of them, except on the feet. The color is yellow, slightly brighter for the baby.
Both mom and baby appear to be quite loved and played with so the fabric is used and they have hairless spots, especially on the ears, back, nose (for the bear cub) and paws. The mom's nose is stitched vertically with the same color as the rest of its body. The bear cub does not have a stitched nose but a hairless patch instead.
They don't have any tags or labels as they both are old and worn.
The eyes appear to be in glass, bear cub left eye is a bit broken.
It is possible the bear cub has a music box inside it as you can feel it when you press, but there is no sound coming out of it.
Found on a garbage collection in Australia together with old books in German, a lot of dishes and other staff. A neighbor said, an old lady had passed away and they were cleaning the shed...
I would love to know more about when and where they were made and, if possible, an indication of valuation.