An Andover Toy Unknown Teddy Bear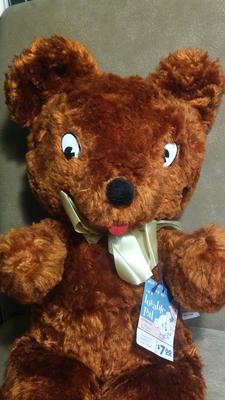 Andover Teddy Bear
I found this teddy bear 2 years ago in the attic of a house i was cleaning out, It was wrapped in what Im guessing was the original plastic bag it came in. It still had the tags on it and I have not been able to find any information about it. The tag says "Hold me hug me I'm a lovable pal" Stuffed toy by Andover New York N.Y.
Famous for quality and value $7.00
The tag on the back just says "An Andover Toy New York"
The bear is 24" tall. i would like to know the kind of material it is made from and approximately a year it was made.