Antique bear Maybe 1950s?
by Kitty
(Santa Rosa, CA. US)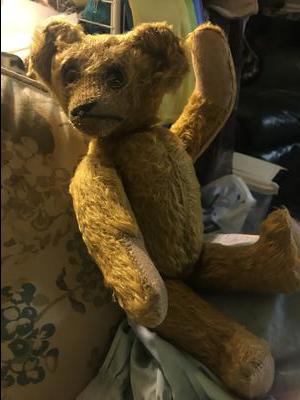 Teddy Bear
Hello, a lady was giving away this bear. Couldn't believe my luck!
The lady's mom found it and the lady who gave it to me was around 60yrs old, so I'm guessing the bear is from the 1950s
So, ………. The….
Head, arms and legs move
Eyes: glass and are inside the head and they move.
There is Some kind of hard ?plastic? On the outside of the eyes Brown eyes w/ black iris
Nose: narrow, 1 inch in length and about 1/4 in deep.
Mouth: a string coming from the middle of the nose to about to his cheek
He's about. 13 inches long
Arms: about 6 inches
Legs: about 5 inches
It feels like there may be something firm in his back. Maybe to control his eye movement maybe?
Fur: golden brown. Maybe Mohawk not sure.
Thx you so much
Join in and write your own page! It's easy to do. How? Simply click here to return to I.D Your Bear.
If you enjoyed this page, please consider sharing
 it with your friends: