Anybody know who made this bear?
by AAJ
(Canada)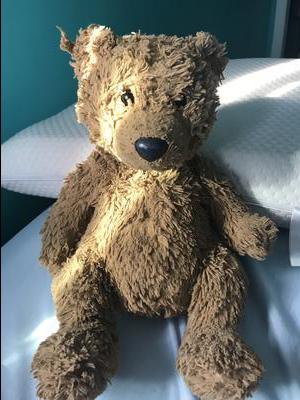 This is my best friend since middle school. He looked like this when he was given to me, tags cut and all, excluding the notch on his left ear. My aunt found him under funny circumstances-he was sitting on a bench in a park at nighttime, under the street light in pouring rain. I'm not sure why my aunt decided to give him to me but we've been inseparable for the ~4 years I've had him. He is all brown, likely made with brown shag faux fur, no paw pads or tail. Red, plastic/glass eyes, plain black plastic nose. He's got a friendly embroidered smile hidden under his messy fur. Likely stuffed with classic loft batting, not weighted. I'm really curious to know what he looked like brand new, and if he has other stuffed family I would be interested in. Thanks for any help!
Join in and write your own page! It's easy to do. How? Simply click here to return to I.D Your Bear.
If you enjoyed this page, please consider sharing
 it with your friends: