Are These Two Bears Steiff ?
by Richard price
(Spokane Washington)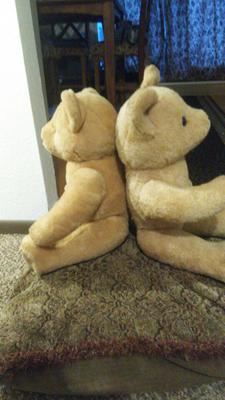 Are these Steiff bears?
Hello I have had these twin bears


For years I got them at an estate sale for $10.The lady said steiff
And handed them to my kids they Dont have buttons on their ears
They are 19 inches tall the arms
And legs move and the eyes are not glass.there is three black strips for hands and feet the arms measure 7 inches and the legs measure 8 1/2 inches I'm not sure if
Its mohair the pads are cloth felt type material and the body's are stiff.the bears need cleaned they are in great condition. Any information would be greatly appreciated I did google images of
Steiff bears and they do look like
Some I seen on there.and if they are not steiff can you tell me if they are worth keeping my kids are
Grown and was wondering.. Thank you so much for your time
Comment
For starters arn't all teddy bears worth keeping? :)
They look very modern to me and I can't understand that if Steiff handed them to your kids why they did not come with some sort of tag. A company like that likes to promote their work usually.
They do look very modern to me and I must admit they don't look like steiff at first glance but then again Steiff have been around a long time and have made thousands of different styles.
You would have to contact the steiff company direct i think to find out for sure. i thought they had some sort of online way of checking authenticity of their bears but I could be wrong.
Perhaps someone else here may recongnise them and let you know for sure. I am not a collector of their bears and so am not able to say, but good luck in discovering who they are.