At LEAST 25 Year Old Bear
by Shelby
(Spokane, Wa, USA)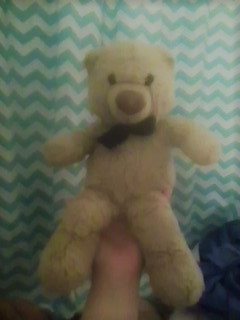 full body front
I was gifted this bear when I was born by my (still currently living!) Grandma TWENTY FIVE (25) years ago. When I was old enough to speak I named him bear bear and He has been so very very loved. Bear Bear is my forever friend and I'm so happy he's still here in DECENT condition. (I think... haha....)


(Bear Bear has been put through the wash and the dryer more times than I can remember. But I treasure him so much that I've been VERY careful with him and no longer washing him harshly and ESPECIALLY never EVER putting my poor friend in the dryer... The EVIL dryer...)
---He used to be pretty fluffy, and is currently 13 inches tall.
---he had a DARK GREEN suede bow ribbon sewn around his neck. (At one point at the front of the neck)
---He used to have some sort of fluffy satin or suede on his big ol' nose and it only all came off about ten years ago.
---Hard plastic button ended eyes and a hard (previously chocolate brown colored suede covered) nose that's a sewn in hard button nose. (It feels like a long rectangle plastic hole) and he's almost exactly a foot long
---I can't seem to find any stitching other than his black mouth that looks like a big uppercase upside down T.
---My grandma used to (and STILL) shops at JCPenny's, and I'm CERTAIN that's where she got the bear as well.
SO BASICALLY I'm trying to figure out what brand he is and what year he's from. I personally think he's some sort of old GUND brand bear, but I don't know! And I want to know SO BADLY what he is. (And I really want to restore him or something. But I'm scared to hurt him. My soul would be utterly crushed if he was destroyed or hurt or irreparably damaged...)