Attic find bear
by Paul Nash
(Worcester, England)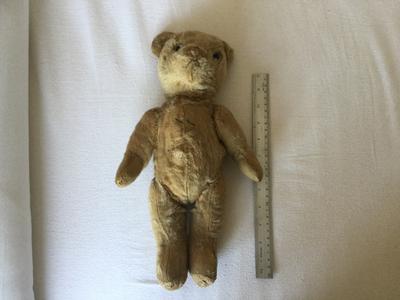 old Attic find bear
We have an attic find bear that we know is at least 60 years old plus, it is quite worn as you would expect, has movable joints with what seem like discs inside and outside of each joint. I can't find any identification marks or buttons on it. The head when squashed seems to crackle and the body feels softer. The eyes seem to be made of glass but I'm not sure about this. I have included pictures for help with identity. The fur on the bear is worn thin in some places and some of the stitching seems to be coming apart. Obviously it was a well loved bear , as I say it is over sixty years old but we think that it could be older as it was belonging to someone who is now passed and was sixty eight years old and we think that it could have been their fathers bear before his. As you can see from the pictures the ruler along side the bear indicates the bears height at around fourteen inches. I hope that someone can give me some idea as to the age of the bear and the value


Comment
Valuations are very difficult to give and can only be done from an auction house who deal with toys as they base it on the price similar bears sold for.
Site visitors may be able to give you an idea on the age of the bear if they have come across a similar one before.
Join in and write your own page! It's easy to do. How? Simply click here to return to I.D Your Bear.
If you enjoyed this page, please consider sharing
 it with your friends: