Australian Teddy Bear
by Dee
(Manchester , UK)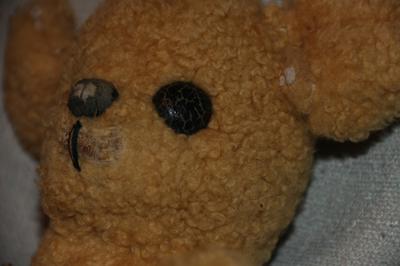 Australian teddy Bear Face
I was given this bear when I was around 3 years old when I was living in Sydney Australia , my Mum found the bear left behind in the hotel she was working in at the time.


She handed him in to lost and found and was told that if no-one claims him she could take him home for me.
I hadn't seen the bear for quite some time and after having my first child in the Uk I took my son over the Australia to see my Mum Dad and Sisters , two years later my Mum and Dad moved back to the Uk and one of the first things she gave when she got back was my Ted.
I was so pleased to see him again and I've kept him safe and sound ever since , my boy used to rip everything apart I used to buy him , so I never let him near my Ted.
He's approximately 11 inches high and golden in colour , mohair I believe , all his limbs are articulating and are cardboard strung , he has a pointed leather nose and a stitched mouth and black/brown leather eyes , ears are rounded and wide set and his head is static.
He has a full firm rounded body , I always noticed he makes a crinkly sound when squeezed.
It's well travelled as I've taken him all over the world with me from Uk to Aus and back a few times , even by boat , Hong Kong , Singapore , he's been everywhere with me.
He has no particular identifying marks from a maker that I have seen over the years , I remember he was well worn when I first got him.
I'm just wondering if anyone can help me identify him as I have no clue at all , I've looked all over the internet trying to ID him but I haven't seen one the same anywhere.
Whilst looking for info on the internet I found a site that said to try taking a tiny sample of the fur and burn it to identify whether it is mohair or acrylic.
I tried it and it left an ash residue apparently confirming it was mohair , so it seems he's quite old.(according to that site anyway)
I think he kind of looks a bit odd as his neck is almost as wide as his head but I love him all the same.
I can't think of any more to say to describe him other than that.
Hope someone can help
Thanks
Dee