Bear In The Box
by Bob
(Tacoma Washington)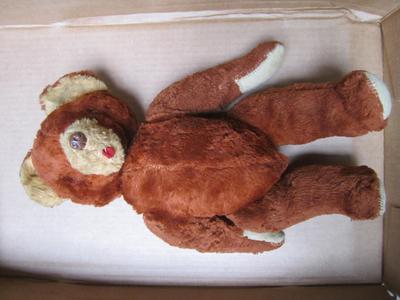 about 13 inches long
I have a old Teddy Bear that that has been in my family for several generations...I almost forgot I had it when I ran across it again just a few days ago....It might have been my Mothers and then mine...it could be from Europe as my family migrated from Germany at the turn of the century


It has no label....it does have nice amber glass eyes ...what looks to be a plastic ( or something like that...did they ever use Bakelite ) Nose ....
I have searched through hundreds of pictures but have never found one with a little red tongue sticking out....
Arms and legs are not movable ...it has about a inch and a half of stitching up at the shoulders... and possible some small stitching where a tail might have been...then a pretty much visible seem down the front.
the body seems quite stiff and feels like there is some kind of frame or something inside....if you feel on the back there is a round hollow feeling space and when I shake him I can feel and hear something moving around inside....
anybody have any ideas it would sure be great to find out.
Bob