Bear With A Haunting Face.
by Kelly holzer
(Melbourne Australia )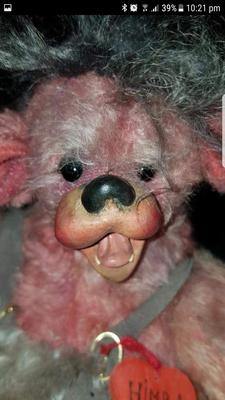 Bear with an unusual face
Hello everyone


Im trying to help out a friend whos wanting more info on an old teddy bear she has. No one has ever seen anything like it before weve gotten comments like (its satans pet, the bear needs jesus, or its the things nightmares are made of lol) someone did mention it may be a dog also. We're not sure of his background but know that the fur is most likely mohair and muzzle and feet are wooden. We cant make out what the tag says or even if its is English. At furst we were thinking it could be a Robert Raike but the label and face (eyes arnt woodern) makes me think otherwise
It is quite scary so dont be alarmed lol would appreciate any information please and thankyou. Also his location is in Australia which may mean nothing or it coukd be helpful.