Bear with a rubber nose
by Mrs mandy payne
(Coventry UK )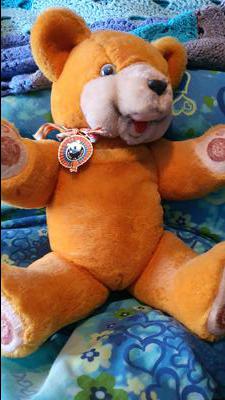 He is in very good condition . Bought him 25 years ago in a charity shop for £3.his nose is rubber he is filled with straw or maybe saw dust as he's crunchy to touch. .he has a tail. He is very bright coloured. The rosette is paper . He is jointed both arms and legs . He's not a cuddly bear as he is very firmly stuffed.
His head is very round . He has paw prints to all 4 pads. He has a tail. I would say he's never been played with as he's still got all his fir no rips no sagging. . He's been kept out of sunlight on a high shelf.
I got him in Newent Gloucestershire United Kingdom.
I think he has wood inside the bottom of his feet.
He has a cloth tag at the back of his neck that says made in China. And in A diamond shaped box it says Sa.