Bear with music box by gueissaz
by Polly
(New zealand)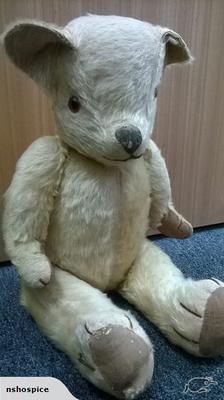 Bear with music box
Lovely and 'well loved' vintage teddy bear


He is a very old 24" tall kapok filled Big Ted.
He has a musical box in his back which no longer works and doesn't have a key. The music box is Swiss made by Gueissaz.
He has lots of wear and tear as only a well loved bear can.
He has the longer snout of the old bears and glass eyes. He did come with a tartan cap but I am not sure that it is original so have removed it. The nearest looking bear on the internet I can find is a Bing bear.?