Bear with music
by Alina
(Mondsee,Austria)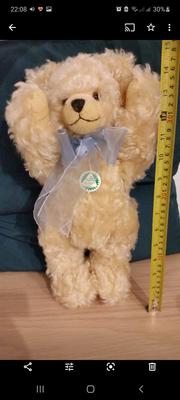 Hello,
I was wondering if I could get a little help on identifying this bear . This bear is Hermann . As you see he has a cute face , a light blue ribbon and a small bell around his neck .
I have bought this bear a couple of years ago from a charity shop . I can not remember the price .
As pictured is 37 cm standing and 25 cm sitting . Inside has a music
box , something like clasic music .
I google-it and could not find any info about it . Any info would be greatly appreciated.
Thanks.