Bears of the forest glen "Elizabeth"
by Hope
(Hibbing, MN USA)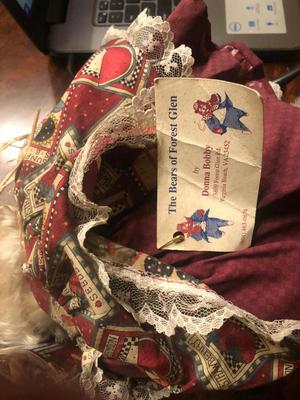 We are looking for the value of this bear. My friend is in assisted living and could use the extra money. The tag says, "Bears of the Forest Glen by Donna Bobby", but I can't find anything about the bear online. I could really use your help!!

The bear's name is Elizabeth. She is is a 12" tall, light cream colored mohair bear, fully jointed, black glass eyes, and has hand stitched nose. The tag says her outfit is made entirely by the artist. The dress is a maroon cotton fabric with an apron that has a maroon cotton base color and then printed with seed packets. The dress is trimmed with an off white lace.

The bear's right hand is holding a green watering can. Glued onto the can is a seed packet, cut from the apron fabric. The left hand holds a terracotta pot with sunflowers. The terracotta pot has raffia tied around it. She also has a raffia bow over her right ear. The artists signature is written on the bottom of the right foot(Donna Bobby)

Can you help me?