Beautiful Wood wool stuffed jointed Bear with humpback.
by Teresa
(Buckinghamshire, Uk)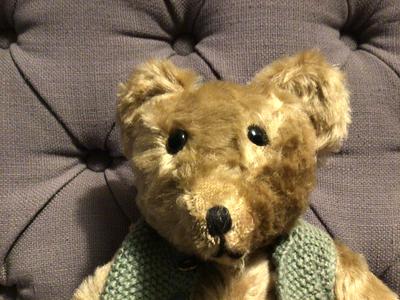 Headshot
I have a lovely Fawn or maybe camel coloured Bear that is at least 25 years old. He was given to my son as a Christening present and we possibly didn't appreciate his value at the time.He is still in perfect condition and wears a charming knitted maybe seed stitch Khaki/ Grey Waistcoat with three metal and shell like buttons. On the left and right sides of the waistcoat are fake pockets . His nose is pointed low like he is looking down his nose at you. I believe his eyes and nose are black in colour or else the eyes are a very dark brown.His fur I believe is plush and synthetic. His paws are either suede or could be velvet. There are no toe markings but the seams on his legs run straight down the front in the middle of each foot.
I believe he is wood wool stuffed as he does crinkle when squeezed . His joints are fully mobile and he stands 34cm tall. His head is 14cm from ear to ear and 11cm neck to ear. His front torso is 15cm over a gently rounded belly . His arms are each 14cm long and his legs from hip joint are each 15cm .His back body length is 16cm from his ducktail style bottom to his humped back. His head sits neatly into the hump on his back. There are no labels or stamps on his body or his waistcoat. Maybe he originally came with some marking but there is no sign of any now. I found him when we were packing up our house to move and only now realise what a charming Bear he is.