Benji Bear
by Jennifer Riley
(England)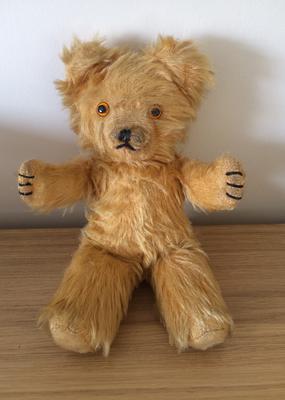 Benji Bear
I found this cute little bear at a charity shop. He is roughly 11 inches tall and has a straw coloured plush which is quite bare in places. He is rather flatly stuffed and is not jointed at all.


He has amber and black plastic(?) eyes and a hand stitched nose and mouth.
He also has hand stitched claws on his arms.
At the back of his head, on a seam line, there appears to be a remnant of a label - however it looks as though it may have been cut or ripped as it is very short and no writing can be seen on it.
Would love to know a little more about this cute little bear. Many thanks