Big Ted
by Anita
(Cornwall, United Kingdom)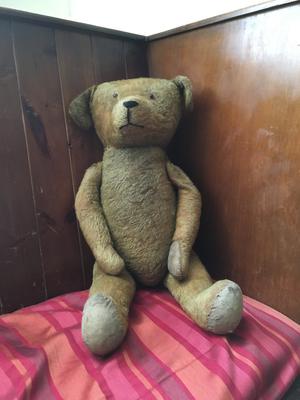 big teddy bear sitting in corner
This is my mum's teddy. She thinks he belonged to her sister first who was born in about 1935. She doesn't think he arrived as a new teddy but was already preloved. Regardless of that he apparently cost rather a lot of money, in fact her aunties had to chip to help buy him.


Anyway, more about Ted. He is about 26 inches tall and stuffed completely with wood wool and is quite heavy and hard, so not very cuddly.
His right ear (left as you look at him) has been sewn back on a very long time ago but the stitching to his left ear looks original. I don't know if they once stood upright but the fur inside looks in quite good condition so they have probably been floppy for a very long time. His right ear also has an odd circular bald patch right in the middle of it which could be evidence that there was once a button in it.
He has very small glass eyes, they are orange with black pupils and are a bit chipped. They are also quite close together as you can see in the photos.
His nose is embroidered with horizontal stitching using a cord like thread and in an inverted triangle shape. The vertical line from his nose to his mouth has at least three threads with the mouth only being one horizontal line.
His snout is prominent, slightly dished and not shaved.
He has wooden disc articulation at the neck, shoulders and thighs. His arms and legs still swivel but at some time his head has been sewn to his body.
His head is made from three pieces of material with his ears sewn into a seam. His body has a seam under each arm and a hand stitched rear seam. His arms are seamed at the back and his legs seamed at the front.
When he is tipped something thuds about inside him which I can only presume is a non functioning growler.
His pads feel like they are made of suede and are quite crudely hand stitched but look original. I can't see any evidence of claws. His feet and paws are slightly pointed.
Under the dirt he appears to be a golden yellow or perhaps mustard colour.
Obviously he is worth the world to us but I would be very interested to find out how old he might be and hopefully where he was made. If anyone could help that would be wonderful.
Thank you for reading.