Bing Miniature Teddy Bear?
by Samantha
(England)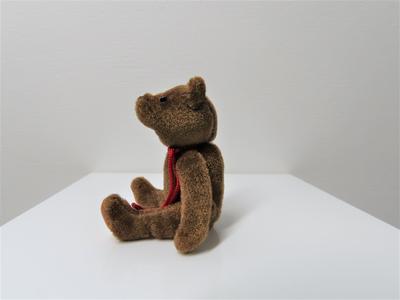 Bing Miniature Teddy Bear
Dear all,


I bought this miniature teddy bear about a year ago from an ebay seller who sells mainly antique and collectable bears.
I am trying to find out if it is a real Bing bear or not.
It's beautifully made with glass bead eyes and is fully jointed. He has brown leather or faux leather pads on his feet with BING stamped on one foot.
The box is a thin wooden oval shaped box with the name BING stamped on it and the initials GBN within the triangular border logo, as shown in the photos. It does look like the genuine BING logo with the correct GBN initials
He doesn't have any kind of stamped metal button on his arms but perhaps the miniature ones didn't have those...I'm not sure. he also doesn't have any labels sewn on, he just has the stamp on his right foot.
The teddy is just 3 inches tall. He has a very slight hump back which did suggest to me that he was a quality miniature teddy bear and made by a well recognised company. I am not a teddy bear specialist at all but because he looked so well made I thought I would take a chance and I went ahead and bought him.
I would like to add him to my home insurance but at the very least I would love to know just for the sake of knowing if he is indeed a genuine Bing Bear or not. I don't think he is very old, he is in excellent condition (like new)...he may have just been stored away and looked after very well, so he may be reasonably old...I'm hoping someone on here can tell me if he's old or new.
I'm not bothered if he is reasonably new I just would love to know if he is a Bing.
Is the stamp on the foot correct, is the box correct....hoping someone can enlighten me.
If he is not genuine a Bing, then does anyone know who the maker might be.
I understand that the Company BING was reborn in 1994 but I have been unable to find any Bing teddy bears that look like this one and in fact I am having great difficulty in finding any Bing teddy bears out there for sale that would have been made since 1994.
I would like to chase this up now so my children in the future don't have to. It would be wonderful to know weather I have bought a little gem.
Any help with this little chap would be most appreciated,
Samantha