Bonkie Bear from 1965, UK
by Sarah
(Cambridge, UK)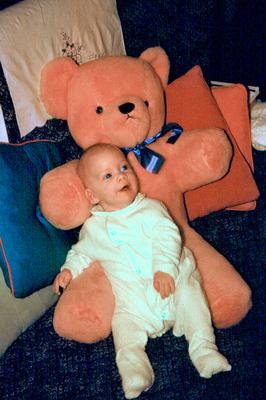 Bonkie was a Great Baby Sitter!
Bonkie was around for as long as I could remember, and I'm not sure who bought him for me.


There are only photos surviving which show him when he was brand new. He later lost his blue ribbon and his legs grew oval-shaped instead of cylindrical from being sat on so often. He had a soft, black 'darned' style fabric nose which I used to suck on while sitting on his lap, hugging him. When I wasn't sucking his nose, I was whispering things in his ears ... not sure what about ... probably complaints about my younger sisters! Bonkie emigrated to New Zealand with me from England back in 1972 ... but when my mother grew homesick in 1976 the family returned ... minus Bonkie. My mother had insisted that almost everything had to be left behind as she knew from not-so-distant experience that shipping costs were prohibitive. We went from one extreme to another as on the way out we'd taken our Ford Anglia estate car (maybe the only one that ever got to NZ!) and a large solid teak sideboard, amongst many other things! So Bonkie was very reluctantly donated to a young cousin of a school friend. I was by then 10 years old and as the eldest child was quite mature for my age ... but I secretly felt my big ted's loss quite keenly.
I've often thought of Bonkie since returning to England in 1976, and in 2017 named my cream point Ragdoll x Maine Coon cat after him. His name and his memory live on!
I've never since then seen a bear that was the same as him ... though a friend and colleague 10 years my junior recently posted on Facebook a photo of herself as a child at a birthday, and I was excited to spot a close relative of Bonkie's, only in panda form! The colour was obviously different, and the ears looked slightly smaller and set differently, but the basic pattern and overall size were the same. I've posted a side-by-side comparison photo.
Lately, I have begun to wonder if somewhere like a toy hospital would be able to reconstruct Bonkie-bear from the photos I have ... there certainly doesn't appear to be any other way of resurrecting him.