Brown Bear 70's Identification
by Robert
(New Jersey, US)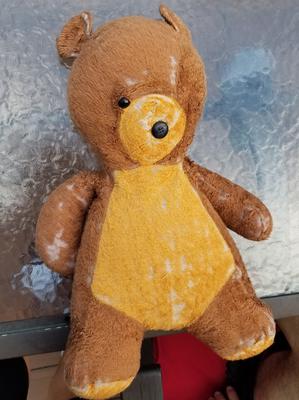 Front France about 1979
Received this bear as a gift from relative from France about 1979.


Nose: The nose disintegrated and I replaced with a button. The original nose had a leather feel about one inch wide and one inch length. The snout(the beige circle around the black button) holds the now button nose use to protrude outward by a half an inch circumference.
Fur: The now faded brown fur is still smooth and silky. There is no tail just one shade brown fur on back, and brown & beige fur on front.
Stuffing: When the stuffing comes out it is a dark yellow foam. When squeezing the bear it is a soft very comfortable feel.
Eyes: There use to be two eyes but now only one half broken eye.
Tall: about 15 inches
Legs: about 3 inch length
Arms: about 4 inch length
Any information would be greatly appreciated. Seeking to buy another.