Brown Bear Identification
by Michelle
(Beverly WV USA)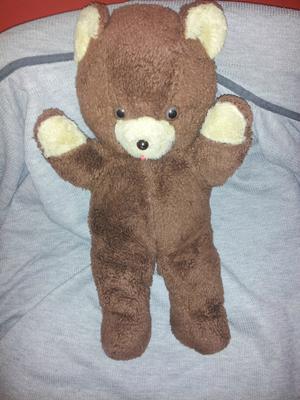 my brown bear
How long have you had the bear? I got this bear in a box of items I purchased at a yard sale. So I have had it maybe a weeks time.


Do they have a long or short muzzle? Its a short cloth muzzle made of what looks like the same material as the bear is made from.
Is the nose stitched or made from plastic? Its neither. its a small round bead type plastic I think, brown, with different color inside, but is loose and the back looks like a screw. nose may have been replaced at some point in time??
Are the eyes plastic or glass? Im not sure, I cant tell. Plastic I think. they are brown with black pupils, flat on back, but feels like they have a screw in end on the back of the eye. they do not have wire on the back.
Is the bear hard or soft? soft fill. no rips in it, so I do not know if its filled with wool or some other soft material. the bear itself is soft.
How tall is the bear? 15 inches. he is sewn so that he will sit down with a seam across his bottom.
Does the bear have any distinguishing features
no hump, hand stitched with nylon thread up the back puckered. fur is a chocolate brown, but has cream colored ear centers, and muzzle, and front paw pads. arms curve upward and are only 3 inches from nape of neck to paw tip. no joints. feet and legs are all the same color. no pads sewn onto feet. just a cross section stitch closed.
legs are 4 1/2 inches from crotch to bottom. his legs are lightly stuffed so that he can sit. mouth is what looks like tear drop shaped red hard felt. No real definition of a neck, pretty much just sewn to body. not jointed.
His feet look like they jut out a small buldged amount like maybe what might be toe or foot shape? he has no claws marks. he is made of what looks like some type of cloth, maybe terry cloth, its kind of matted together.
I found pics online that look extremely close to what this one looks like. Made by the Rushton Co. differences are the nose, and the stitching. Nose on the ones I saw are plastic nose shapes, not bead type and stitched up the front instead of the back.
I have no history available about this bear. There is no tag anywhere on this bear. My guess is this bear maybe is from 60s-70s.