Brown bear with tartan details, mid-late 80s
by Olivia
(England)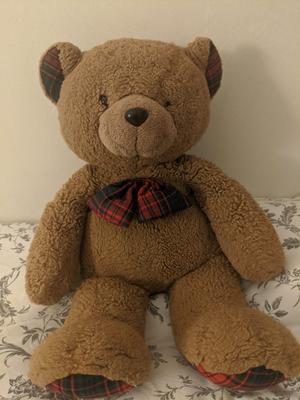 This is my favourite bear. He was passed down to me from my older brother, the bear was given to him from a family member around the mid-late 80s or early 90s then passed to me in the late 90s when I was a small child.


The label has long since disintergrated, but I remember it being fairly large and cream coloured, and threads of it are coming out his tush area.
He has plastic eyes and nose. If you push back the fur from his eyes he actually has brown irises and black pupils. He is about 13 1/2 inches tall when sitting.
We are English so it's likely that the bear was bought anywhere in the UK although I have no idea if those family members were travelling at the time and bought him abroad.
He has matted fur now, but he used to be very fluffy. The grainy picture is the only picture i could find of him in the 90s in the background of a picture of my brother - as you can see he was very fluffy. He's soft and filled with polyester stuffing I think.
I don't think he is any of the big brands, but he's really been roughed about over the years, especially by my brothers (who used to use him as kung fu practice, lol) and barely damaged at all aside from a rip on his leg seam. He looks similar to other bears of the 80s after some googling. His ears are tartan and the top part has been folded before sewing which I find quite interesting!
This is all the information I can provide, so thanks for any help, even if you had the same bear I would love to know!