Brown Teddy Bear - Any information on this bear?
by Hunter
(Louisiana, USA)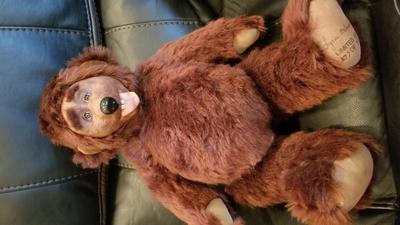 Brown toy teddy bear
Hello,

I am hoping to gather any information anyone may have of this teddy bear I came across at an estate sale the other day. I have tried to perform research but have been able to find absolutely no information at all regarding the bear. I would love to know the time period it was manufactured, the manufacturer, if there are any special stories behind this line of bears and also a possible valuation if anyone were to have one.

The bear is about 15 inches tall when in the sitting position It was a porcelain face with the tongue sticking out and two front teeth showing. All four appendages and head/neck are jointed and able to move. The only visible markings I am able to find are on the bear's left foot.

Any info is greatly appreciated!

Thanks,

Hunter

Join in and write your own page! It's easy to do. How? Simply click here to return to I.D Your Bear.
If you enjoyed this page, please consider sharing
 it with your friends: