Brown Teddy with poseable arms legs and head
by Angela
(Oklahoma )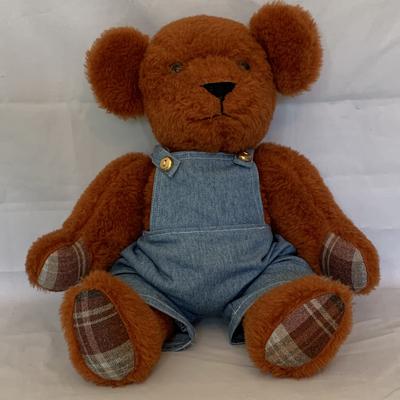 I bought this bear at a local thrift store. He has plaid paws and a denim colored outfit. He has poseable arms,legs and head. There is no identifiable marks or labels. He is in perfect condition and is very clean. I will include a picture of how he is stitched together hopefully someone will recognize the technique. He has brown eyes , rusty brown colored fur. He does not look homemade. He feels like he has really firm stuffing. He is about 17 inches long and 9 inches wide at shoulders. He has a black sewn
Nose and mouth. His denim colored overalls have two brass buttons and could be homemade. I really don't know anything else about him. I have looked everywhere to find information about him. He is so adorable which is what attracted me to him in the first place. Any information you could gimme would be much appreciated. Thank you!!!
Join in and write your own page! It's easy to do. How? Simply click here to return to I.D Your Bear.
If you enjoyed this page, please consider sharing
 it with your friends: