Can Anyone Help Identify My Teddy Bear?
by Hilda VanStavern-Vargas
(Virginia USA)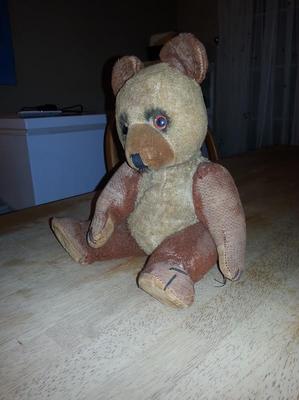 brown and white bear
I have had My Teddy Bear all my life (now 60 years). I do have a photo of me holding the bear when I was around 3 years old and at that time there were a few spots that appeared a little worn on the bear. Maybe my brother had him first which would of been almost eight years prior to me. It was just in the last three weeks that I realized I do not know a thing about it except the bear has always been with me. We started our journey in Washington D.C. in 1953.


Well the adventure started three weeks ago (11/23/2013) as I decided to look up my bear on the internet and to my surprise could not find anything even close to looking like it. So my grand daughter and then her husband joined me and between the three of us have not found my bear but have gotten a crash course in teddy bears.
Well from the little that I have learned in the last three weeks and trying to compare my guy with a computer screen here is my best description of my little bear.....
Brown legs, arms & ears and a white/cream torso with a brush of black around each eye.
He has a short muzzle that appears to be made with the same material (like a velvet) as his paws. The paws also have markings on them.
He is about 13" tall and both his legs & arms are about 6" long.
The nose is vertical stitched.
The eyes are amber in color and I do believe glass.
There is a
hard piece of metal in both ears which the ears are cut a little different it seems.
I think his fur is mohair and is stuffed with wood wool.
He is hard, like firmly stuffed.
His five joints are still in very good working shape.
There is a small tag on his butt but it can not be read at all. That is the only tag on him.
There is a Sankyo Music Box that was in a wood case that has fallen apart in his body. The key has been lost forever. I think the song is Fur Elise.
Don't know why but his legs are stitched different. One has the seam in the front and the other in the back
Thanks for reading our short story and any information that you may know would be greatly appreciated.
Comment
Well I must admit I have never seen another bear like him. I must say he does a mouse like appearance to me. So my first thought was perhaps he was a representation of Micky Mouse from this period as he had a white face too. But I can't find a picture of a similar one.
i have checked through all my books from that period and cannot find another one. this could mean that he was made by a company who was not a major teddy bear firm but another toy make who branched out into making a bear.
unfortunately without a label of some description it is fairly impossible to identify him unless someone else has one similar. lets hope someone else recognises him here and lets you know.
Kate